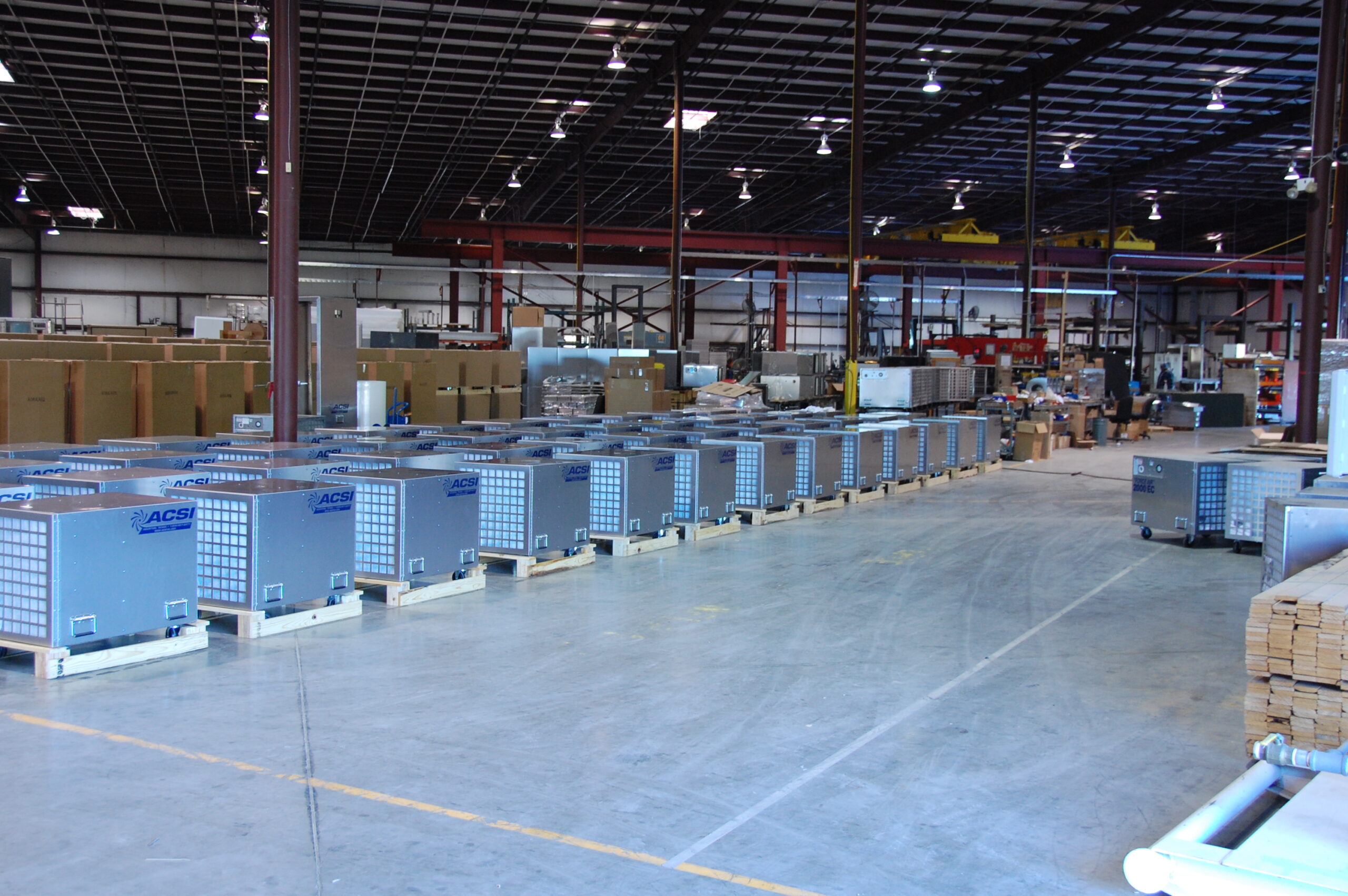 Negative Air Units and Decontamination Trailers: Advanced Containment Systems Responds to the Pandemic
No one knows what will happen going forward regarding the pandemic. But one thing almost everyone can agree on is that caution will be called for in community spaces. This means cleanliness, decontamination and air quality concerns will be with us for some time to come. Advanced Containment Systems, Inc. has several things to consider for those trying to provide safe environments for healthcare, their patients and workers.
Negative Air Units
Negative air units, or negative air filtration systems, change over the air in a room by pulling in what would otherwise be stagnant air and then pushing out filtered air. For COVID-driven considerations they provide one more layer of assurance that all things possible are being done to accommodate people needing to meent in small groups. They have been used in hospital settings and places like conference rooms and schools.
They are particularly timely for nursing homes or assisted living facilities that were previously mandated to allow family interaction with residents only through exterior windows. Now with cold weather upon much of the nation and many nursing homes scrambling to figure out how to provide safe, indoor family interaction, these clean air systems can be used in rooms designated for that purpose.
Advanced Containment Systems has been supplying thousands of their popular negative air units in two sizes:
Force Air 2000: This air filtration system turns over room air at the rate of 2000 cfm. Its 2-speed, powerful 1 ¾ HP efficient motor pulls air through a HEPA filter and back into the room. Highly portable, the approximately 100 pound unit is on castors and comes with handles. At only 37" long and 32" high it can easily fit in an out-of-the-way space in any large room.
Force Air 700: This smaller but highly efficient negative air unit exchanges air at 700 cfm and is the same unit that is used in Advanced Containment Systems's decontamination trailers. The Force Air 700 features a variable speed motor to accommodate differing room sizes. And even though this 33x18x18" unit has castors for portability, weight is only 67 pounds and so the handles are a convenient feature.
Filtration in these units is obviously not small enough to trap COVID particulates, and you probably wouldn't want to deal with that hazardous mess even if it was possible. So, depending on your facility and purpose you may want to temporarily duct exhaust air out of the building, such as through a window, as many hospitals have done. Either unit can be purchased for less than $1000, making them highly desirable and affordable for use either during or after the pandemic has passed.
Decontamination and Shower Trailers
Decontamination trailers, or decon trailers, have been used for years in various settings; in necessary abatement during construction/remodel projects for the removal of asbestos, or in known hazardous situations due to chemical contamination, as examples. They are also at the ready in many first responders and governmental units should a chemical attack occur. The shower features have been indispensable in temporary camps for crews dealing with forest fires or for utility and emergency responders during hurricanes. They can quickly provide some "home away from home" amenities for those who will be selflessly combating disasters for days, weeks or even months to come.
But more recently, decon trailers are finding their place in the medical arena during the COVID pandemic. Medical staff can use these mobile stations to take extra precautions before and after shifts in hospitals or nursing home COVID units, lessening the risk of carrying into work, or home from work, COVID pathogens.
ACS decon trailers come in either 2 or 4 shower configurations. They include hot water systems, negative air filtration and can be built with a number of other amenities, such as lockers. Trailers can be built to your desired level of plushness, but all are built military tough – made to last, made to be mobile.
Sleeping Trailers
Healthcare workers, in some cities, have found it difficult to make it home between shifts because of COVID-forced work loads. So our sleeping trailers have been placed all over the nation in rapid response.
Building sleeping trailers is nothing new for Advanced Containment Systems. What is new this year is the way we've accommodated safe distancing and other COVID-related concerns. While many of our mobile sleeping trailers used to house 36-48 people, we've cut that number down to 30 with 4 to 6 beds to a room. Plexiglass partitions have been put into place and negative air filtration is also an option.
Mobile Isolation Units
Mobile patient isolation units (MPU), or as the government calls them, mobile isolation units, is a double containment trailer with two rooms for quarantine. These can be fitted as hospital rooms with negative air filtration units. They are quite often accompanied with our stand alone sinks if they are used as mobile COVID testing centers.
Buy or Lease – Providing Options
No one can peer into a crystal ball and see how the next several months are going to play out. In terms of COVID, many are warning that this will not be quickly over. In fact, some authorities say it will likely get worse as people spend less time outdoors and more time in closed spaces due to colder weather.
While our decontamination trailers and sleeping trailers will last for years and have multiple uses, many administrators like the fact that they are able to lease our trailers through our distribution network. This gives them the opportunity to provide their workers comfort and safety without up-front capital expense they can't justify during uncertain times. Whether in a healthcare setting, for commercial use or in response to natural disasters, we have tried to do our part by giving communities and leaders options.
You can learn more about our negative air units, decon trailers, mobile isolation units and sleeping trailers by visiting Advanced Containment Systems online. While there you can download brochures or connect with us regarding your special requirements or needs.