The Force Air 700 is our most powerful full feature HEPA air purification and pressure control unit designed for high power portability in a rugged no-nonsense package.
Available in a full-featured option as shown below.
The true HEPA filter removes airborne particles down to .3 micron in size with 99.97% efficiency. The unit also uses replaceable primary and secondary filters too to improve the life of the HEPA filter. Easily replaced filters are available from various sources.
Four heavy-duty 2″ casters coupled with two spring-loaded handles make the transfer an easy job. The airtight case made of corrosion-resistant heavy gauge aluminum seals with Iron Grip neoprene material, and the door quickly opens and closes with a link lock latch.
A unique custom designed 0.25 HP motor and dynamically balanced blower mounts in a tripod fashion using rubberized bushings designed to dampen vibration and minimize noise. Carefully engineered tolerances avoid motor shift, rubbing, or drag.
Power to the unit is standard 120 VAC using the included 5-foot power cord. The built-in Minihelic differential pressure gauge coupled with indicator light panel and audible alarm takes the guesswork out of filter replacement. The precision pressure gauge reads 0-5.0 inches of water.
The FA700 comes delivered with filters and ready for use and a 1-year factory warranty.
Full Feature Option
Our full-featured Force Air 700 is equipped with an audible alarm and a three-light indication system for optimal performance.
As the filter begins to fill with particles the green, amber, red light and alarm alerts you on the status of your filter.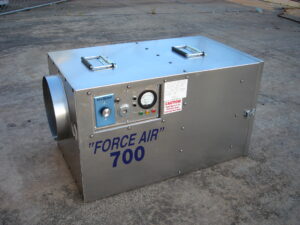 Features & Benefits
Heavy-duty aluminum, lightweight, durable, rust-resistant
HEPA Filter is locked in / assures a positive seal around the HEPA filter
4 heavy-duty removable casters for easy mobility
Rugged carrying handles
Specifications
Dimensions: 13″ x 18″ x 18″
Weight: 67 lbs.
Air Flow: 700cfm / 400 cfm
Power Supply: 115 VAC, 60Hz, 3.3amps
Body: .063 aluminum
Brochure
Parts
| | |
| --- | --- |
| Part Number:  | Descriptions:  |
| 76010403  | Motor 0.25HP Baldor #17E310W531  |
| 76252001  | Blower 200 CFM DD9-4 #76M6062  |
| 38900724  | Motor & Blower Assembly  |
| Call Dist.  | HEPA Filter 12″ x 12″ x 11.5″  |
| Call Dist.  | Ring Panel Filter 13″ x 13″ x 1″  |
| Call Dist.  | PreFilter Pad 17.5″ x 17.5″ x 1″  |
| 3200100  | Hepa Clip Kit  |
| 38900725  | Control Panel Assy. (Item's 8, 9, 10, 11 & etc.)  |
| 66020101  | Gauge Pressure MinHelic #2–5005  |
| 72150236  | Breaker 15 Amp Push Button  |
| 72270321  | Motor Speed Control #KBWC-15K  |
| 72250301  | Receptacle Recessed Male 15 AMP #5278  |
| 74100101  | Linklock No Spring S-K3-1625-07  |
| 74100201  | Linklock Keeper Plate K3-0334-07  |
| 74500102  | Caster-2″ Swvl Plug-in-Caster #5295/5299  |
| 74090520  | Handle w/Spring (Blk)  |
| 71200204  | Terminal Push On 16-14 Female Clear  |