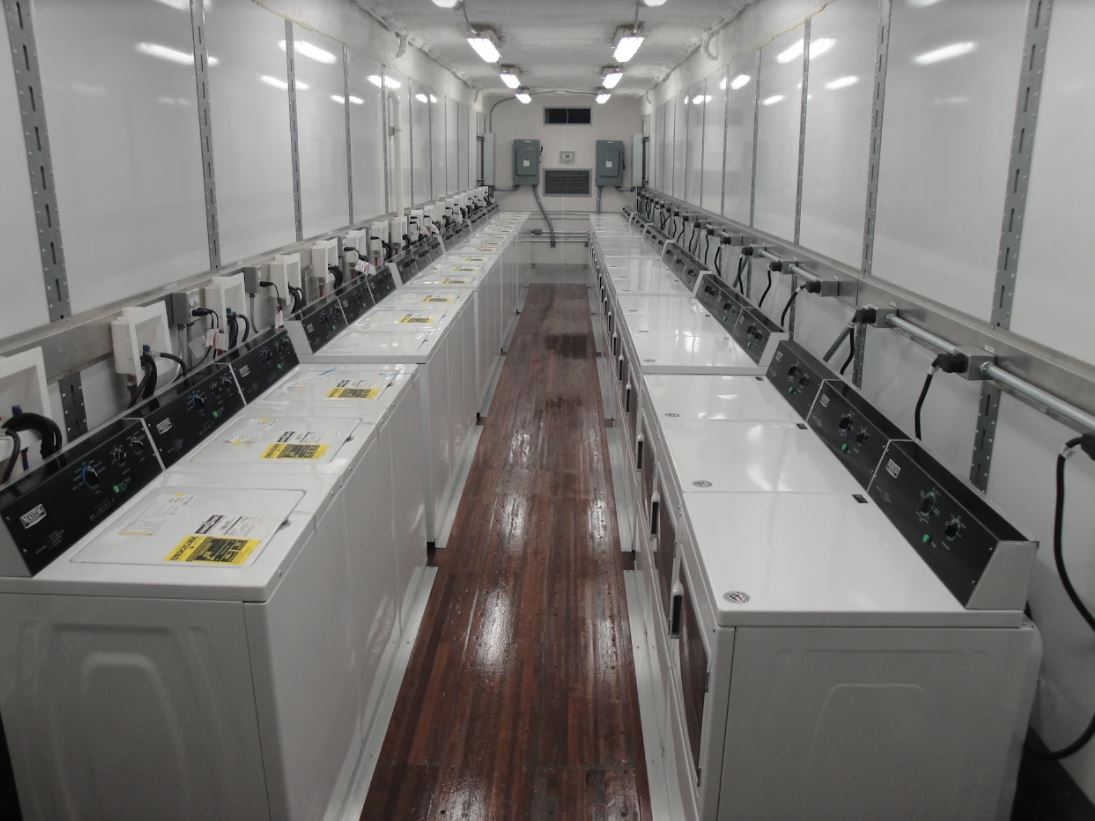 Advanced Containment Systems, Inc has been building quality products for decades, and we've served such diverse industries as the military, law enforcement, hospital systems, and municipalities.

Our success has come from dedicated employees building remote, mobile, and on-demand trailers constructed from quality products that stand up to even the harshest and most trying environments.
Our line of products also includes mobile laundry units and trailers. These units are already in use across the country, offering their services to remote workforce housing, emergency and disaster response units, and organizers of festivals and fairs.
Built for high-traffic demands, the laundry units enable users to wash and dry their clothes in a safe environment. Vulnerable and at-risk residents of your city or municipality can use this service in an effort to regain their confidence and self-esteem. Easily mounted on a trailer, laundry units can function as a temporary solution. 
The laundry trailers we produce can be used as a one-of-a-kind solution and are fully customized to fit your demands. Whether it's a short-term situation or for a longer engagement, these trailers are the ultimate solution to your needs.
Easy to mount on larger trailers, ISO containers, or skids, the most popular sizes are 16', 24', and 53'. However, because we design and build every one of our trailers on-site, our customized solutions are affordable and reliable.
ACSI laundry trailers pack a great deal of benefits and features to handle any size audience, no matter what they need. The washers and dryers in the units are commercial and stackable to save on space.
The trailers feature countertops or folding tables, along with wash sinks. Depending on the situation, water-heaters are available and can be powered by propane tanks or electricity. If freshwater isn't directly available, or you can't plan far ahead enough, we can add these holding units.
The laundry trailers are outfitted with waterproof interiors that won't rust and drain quickly to avoid standing water, which can be a major slip and fall hazard. Easy to clean and maintain, thanks to top-shelf building materials, you'll save time and cleaning costs.
Other amenities that can be added to your laundry trailer include AC units and oversized doors so bulky tubs can be unloaded and offloaded with ease. Of course, our units have exhaust fans or roof vents so the trailer is kept ventilated.
Finally, the laundry trailers can easily be attached to other trailers that house living quarters. This makes the perfect combination for construction sites and emergency response teams who are planning on long-term engagements.
Time to do the Laundry
ACSI is ready to partner with you to solve your laundry trailer needs. 
We also carry an entire line of trailers that can be used for short- or long-term living quarters; decontamination operations, and command centers. 
They're available in different sizes and dimensions and can be customized and outfitted to best suit your needs.
You can also call us directly at 713-609-1287 and speak with an expert.