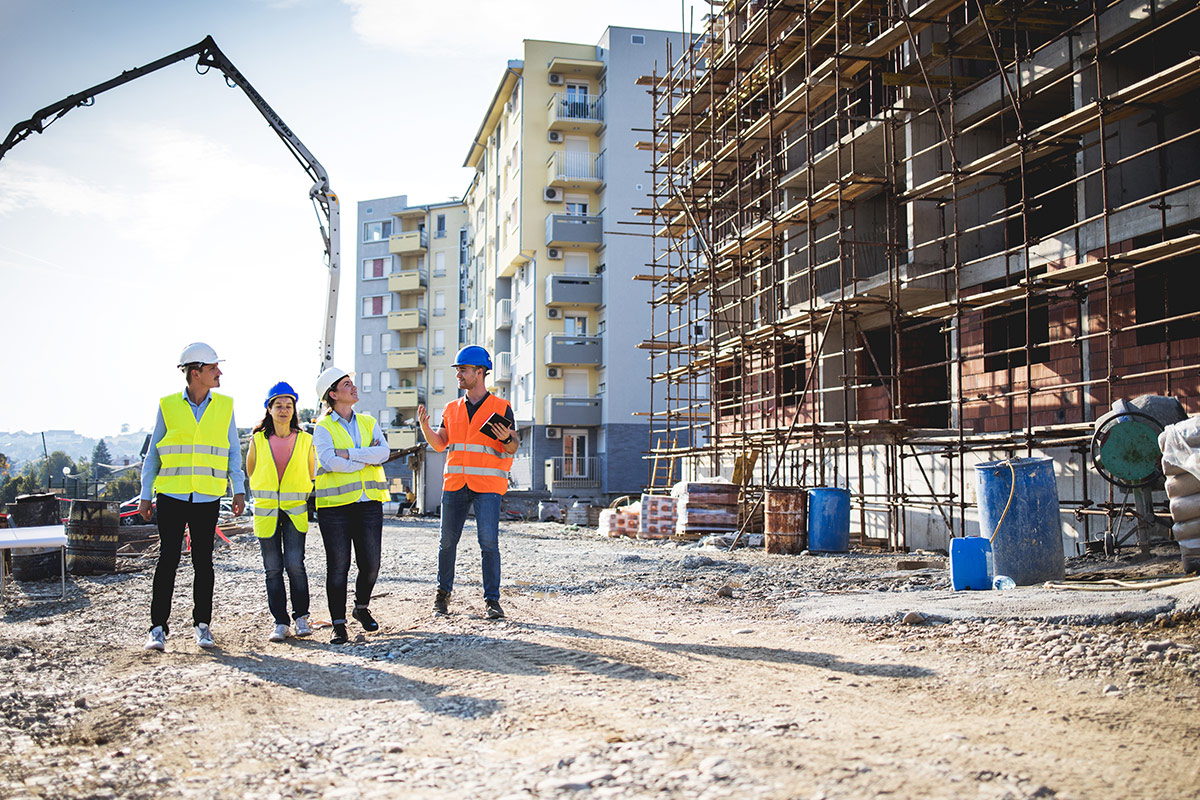 ACSI Restrooms for Construction
Construction Restrooms That Get the Job Done
Heavy machinery, a sizable team of workers, and a fast-paced work environment are some of the hallmarks of any construction site.
Every hour counts, and your personnel are busy getting their tasks completed – taking a bathroom break can disrupt their rhythm and take away time from the job. No one wants to walk down a busy street or highway, looking for a restroom.
You may consider leasing or renting Porta-Potties, but they tend to fill up quickly and no one wants to deal with that. Not only are they constructed with flimsy material that is often for a temporary solution, they're not environmentally friendly. Their size limits usage to one person at a time, resulting in long lines and lots of grumbling.
Advanced Containment Systems has the solution.
Our portable restroom trailers are built at our facilities using military-grade materials and components that won't show wear or tear. The US military, hospitals, police, fire departments and oil and gas companies have all put our units to the test – and have been pleased with the result.
Bathroom breaks can be time consuming, but with a portable restroom trailer your crew can finish their business and then get back to business. Plus,they can accommodate several users at once and we design them to be environmentally friendly.
While we offer three different models for our clients, our Advantage series is our most popular and durable model work sites, high winds and grit.
Regardless of the model you choose, you can be sure that each one is built with attention to detail. Our in-house manufacturing process assures that we have complete control during the construction process.
You can also have the option of adding sinks, more urinals, and AC units, and even skylights used on higher end units for the Presidential and Prestige units. Each of our offerings feature aluminum exteriors that can handle dust, heat, cold, and heavy use. Heavy duty steel steps and entry and exit doors are virtually immune to dents and scratches.
Whatever your crew dishes out, our restroom trailers can take it – and more.
We also offer customizable restrooms that are excellent solutions if your company works in a specialized field or sector of the construction industry. It's an easy process when you visit our website and take a quick survey. After that, one of our experts will be in touch.
Investing in a restroom trailer makes good economic sense. You won't have to worry about leasing and renting Porta-Potties as you move from job site to job site. Each of our trailers are outfitted with stabilizer jacks for durability, and can be towed by one of your vehicles. Hitch them up and go!
The final result will be a restroom unit that's built to serve and accommodate any number of guests – plus they can also be used at other events like concerts and festivals – making them an excellent investment that can be used year round.
Let's Get to Work
ACS is ready to partner with you to solve your restroom trailer needs.
Start by visiting our website to learn more about our restroom units and download our full brochures or click the "Build Your Restroom Trailer" to get started on a customized unit.
You can also call us directly at 713-609-1287 and speak with an expert.